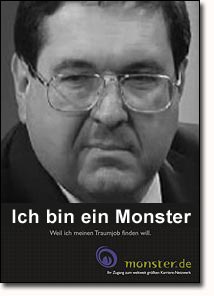 Das neue Obermonster Sal Iannuzzi gibt wirklich Gas… gerade mal 3 Monate nach seiner Ernennung zum CEO von Monster Worldwide ging heute morgen eine eMail an alle Monster raus, dass im Laufe der nächsten Monate 800 Mitarbeiter (das sind 15% aller Mitarbeiter!) entlassen werden!
Hier die ganze eMail:
To All Monster Associates:
It has now been more than three months since I was named Chairman and CEO of Monster. In that time, I have had the opportunity to meet with many of you, and appreciate your ideas on how we can improve our organization. Monster is a great growth company and a powerful brand, and I am confident in our ability to build on our track record of growth and deliver on our commitments to customers, associates and shareholders.
Today, we are announcing a game plan for Monster's future – one that will drive innovation, strengthen our leadership position and empower you to reach your potential. These actions are the result of a thorough analysis by our management team, which looked closely at our business operations, organizational structure, market, and long-term opportunities.
The focus of our efforts is on investing in innovation, to deliver the kind of experience to employers and job seekers that will maintain Monster's status as the #1 brand in the online career marketplace. To get there, we have to further simplify our organizational structure to eliminate layers of management and share information among our businesses on a global scale. We also need to provide superior products and services, along with effective brand-building programs that will strengthen our competitive position. Finally, we need to manage our business in the most cost-effective and productive way possible.
To accomplish these objectives, we have made the difficult decision to reduce the number of staff positions at Monster by approximately 800 globally beginning immediately and into 2008. While eliminating positions is never easy, we will act in a professional and sensitive manner to ensure a smooth transition for both the Company and the affected employees. As a result of these reductions, a large portion of the savings we achieve will be reinvested in the growth of our business. We also will have a more sharply focused organization that is empowered to respond quickly to market opportunities.
In the next few days, your team managers and the Human Resources department will provide additional information about planned changes in your specific area of the Company. I am also committed to having more frequent communications with you going forward.
Tomorrow I will host an all hands conference call at 7:00 am ET to accommodate our associates in Europe and Asia and we have also scheduled a 12:00 pm meeting in Maynard for our North American associates. The dial-in information is included at the end of this message.
Again, I want to emphasize my confidence in Monster's future – and my belief that by investing in innovation, streamlining the organization, and improving our cost-efficiency, we are taking the right actions for our long-term growth and success.
Sincerely,
Sal Iannuzzi
---
Whoa! Was das für die deutschen Monster bedeutet weiß noch niemand, aber er redet von "globally", was also bedeuten könnte, dass auch deutsche Monster Mitarbeiter von der Entlassungswelle betroffen sind!
Monster Mitarbeiter haben eine Standard eMail bekommen, mit der sie potentielle Fragen beantworten sollen:
As a valuable customer, I wanted to take this opportunity to recognize Monster's restructuring and what it means to you.
The restructuring allows Monster to make reinvestments in some key opportunities, specifically new, innovative products while increasing our global, national and local marketing presence. Our goal is to provide you with the tools to attract and find talent quickly, and we are committed to delivering on this promise.
Monster's brand is stronger than ever, and we continue to see stellar growth in visits, page views, resumes and applies. Your business is important to us, and we're committed to making investments in both products and services to help you build a talented, productive workforce.
Regards —
(rep name)
Monster Worldwide 'Sales to Customer' Talking Points
Monster restructured so we could reinvest in the business, shifting resources to improve our products and technology, while executing on strategic global, national and local marketing campaigns.
It's important to us that we focus on creating a better match, to provide you with leading-edge tools to attract and find the right talent quickly. This is our commitment to you.
We feel these moves will create a level of energy and enthusiasm, and we're committed to being your partner of choice.
Monster was built by innovative thinking, and we're confident this realignment of resources will keep Monster at the forefront of the industry it defined 13 years ago.
Specifically, we're working on customer-facing initiatives created to improve the employer interface – making it easier for you to navigate, saving you time.
On the seeker side, the focus will be on personalization, adding rich content and ease of use for the visitors who come to Monster to view jobs, post their resumes and apply to jobs.
All of the improvements to the site are a result of your feedback. This realignment of resources leverages resources globally, allowing us to build products more efficiently while decreasing time to market.
These moves also allow us to make a significant additional investment in global, national and local marketing, executing on both short- and long-term programs designed to create and sustain excitement about Monster in the marketplace.
Monster's brand is stronger than ever, and we continue to see stellar growth in visits, page views, resumes and applies. Your business is important to us, and we're committed to making investments in both products and services to help you build a talented, productive workforce.
Through a reinvestment in product development, innovation and strategic marketing, we are enhancing our value proposition. It is our goal to increase your return on investment by providing you with the online recruitment tools you need to improve quality and speed of hire.
The reinvestments Monster is making will give us greater speed to market and increase our commitment to a consultative partnership, attributes we are confident will make it easier for you to do business with us as we meet and exceed your hiring needs with professionalism and enthusiasm.
Our marketing strategies are aggressive and sound. We are passionate about our market dominance and what it means to you, and we are committed to retaining our leadership position in the online recruitment industry we created 13 years ago.
Insgesamt viel BlaBlaBla… mal sehen, was wir in der nächsten Zeit so in der Presse lesen werden.
Danke an Matthias und Cheezhead!
Falls Sie dieses Thema interessiert, sollten Sie auch lesen: